DPAS02H00 allows users to expand two RS-232 ports over Ethernet connection, and it works on any windows based desktop, thin client, laptop, All-in-one, and tablet PC computers. With SUNIX DPL2000Q High-Performance Ethernet-UART controller and exclusive I/O Redirection Technology, DevicePort® creates physical COM ports that support real time data communication, Smart COM on/off-line deployment, and Ethernet-COM port hot-plug capability; user can expand RS-232 COM port easily without complex software configuration. SUNIX DevicePort® improves solution deployment efficiency to achieve greater reliability in commercial and industrial automation applications.

Features
Expands 2 independent RS-232 serial ports over Ethernet networking.
Built-in with SUNIX DevicePortR DPL2000Q High-Performance Ethernet-UART controller.
SUNIX DevicePort® proprietary Ethernet I/O Redirection Technology.
- Serial communication with real time data transmit and receive.
- Physical COM port accessible via Windows Device Manager.
- Up to 255 COM ports can be setup on a windows system simultaneously.
Accessing Legacy COM port by using existing software and application.
Flexible port configuration with DevicePort on/off-line smart COM deployment.
- Auto connection and mapping with MAC address bound.
- Keeps physical COM port in system when DevicePort under off-line mode.
- Serial signal staging until DevicePort recovery back to on-line mode.
Built-in dual 10/100 Ethernet ports for Ethernet cascading capability.
Low power consumption design of 2.5W for meeting Green Environmental movement.
15KV ESD protection for all serial signal lines meeting IEC-61000-4-2 standard.
CE, FCC, VCCI, C-Tick, BSMI and RoHS certified, with Microsoft WHQL approval.

Applications
1. DevicePort® on Data Acquisition
With SUNIX DevicePort® Ethernet I/O Redirection Technology, traditional data collection which in the form of waveforms, on/off signals, or temperature readings have been greatly improved by the Ethernet networking feature. Ethernet allows systems to be more distributed, and remote monitoring is also possible. Here is the innovated example for centralized data acquisition solution.
A controller must be used (generally a PC or PLC) to connect to sensors and the SCADA/HMI system under traditional data acquisition infrastructure.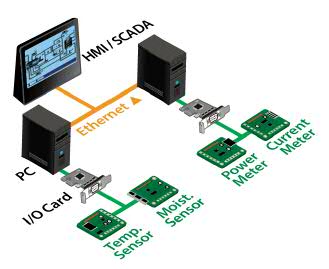 With SUNIX DevicePort®, data acquisition infrastructure changes from a centralized and localized system to a distributed and remotely monitored system. It also saves huge among of initial hardware investment and future maintenance cost.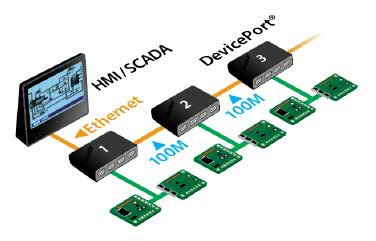 The best approach in deploying a distributed Ethernet-based data acquisition system is to create a device link through daisy-chain topology that saves implementation costs such as switches, cable wiring, as well as labor costs. SUNIX DevicePort® improves deployment efficient to achieve greater reliability in commercial and industrial automation applications, such as factory automation, security and surveillance systems.
2. DevicePort® on Mobile tablet computers
The Tablet computer market share is reaching its saturation point in the consumer market, but for enterprise applications, it has just started to pick up steam; as in commercial automation solution. Tablet computers can help to enhance employee productivity and increase sales incentives for many small businesses and retail sales sectors. However, most tablet computers lag with physical I/O connectivity; additional I/O docking stations are needed to make those peripheral connections; this will eventually reducing tablet computers mobility and conveniences.
With SUNIX DevicePort®, Ethernet enabled Port Replicator, it's easy to expand Legacy RS-232 COM and Printer LPT ports wirelessly on tablet computers. By simply connecting RJ45 Ethernet cable between SUNIX DevicePort® and WiFi Access-Point, the tablet computers will create physical COM ports automatically by using existing software application with real time data communication within the same network, and without any need for physical cable connection on your tablet computers. SUNIX will provide corresponding Application Programming Interface (API) and Dynamic-Link Library (DLL) module which allows software designers to easily develop their own programs to manipulate these serial and printing communications.

DevicePort® Mobile I/O Redirection Technology

Specification
Serial Communication
Interface
RS-232
Baud rate
50bps ~115.2Kbps
Controller
SUNIX DPL2000Q
Stop bit
1, 1.5, 2
BUS
Ethernet
Parity
even, odd, none, mark, space
No. of Port
2-port
Flow Control
Xon/Xoff (software)
FIFO
1Kbyte Hardware / per port
Connector
DB9 Male
Signal
DCD, TxD, RxD, RTS, CTS, DTR, DSR, GND, RI
Protection
±15KV ESD IEC6000-4-2 Air Discharge
±8KV ESD IEC61000-4-2 Contact Discharge
±4KV ESD IEC61000-4-2 Level2 Line-to-Line
Ethernet Communication
| | |
| --- | --- |
| Number of Ports | 2-port, Ethernet Switch Port |
| Speed | 10/100 Mbps, auto MDI/MDIX |
| Connector | RJ45 |
| Magnetic Isolation Protection | 1.0K Built-in |
Power Requirements
| | |
| --- | --- |
| Input Voltage | 5 to 12VDC |
| Power Consumption | 2.5W @ 5VDC |
| Connector | DC-Jack |
Driver Support
| | |
| --- | --- |
| Windows Client | XP (X86) / 7 / 8 / 8.1 / 10 (X86/X64) |
| Windows Server | 2003 / 2008 / 2012R2 (X64) |
Regulatory Approvals
Hardware
• EUR: CE EN55022 Class B, EN55024
• US: FCC Part 15 Class B
• TAIWAN: BSMI: CNS13438
• AS/NZS: C-Tick: CISPR22 AS/NZS
• JAPAN: VCCI
Software
Microsoft WHQL Windows
• Microsoft Client: XP (X86) / 7 / 8 / 8.1 (X86/X64)
• Microsoft Server: 2003/2008/2012R2 (X64)
Environment
| | |
| --- | --- |
| Operation Temperature | 0 to 45°C (32 to 113°F) |
| Operation Humidity | 5 to 95% RH (non-condensing) |
| Storage Temperature | -20 to 85°C (-4 to 185°F) |
Physical Characteristics
| | |
| --- | --- |
| Housing | ABS, PC, Metal |
| Weight | 145 g |
| Dimensions | 121x81.93x27(mm), 4.7x3.2x1.0(inch) |

Package Content
DPAS02H00- DevicePort® Advanced Mode, 2-port Ethernet enabled RS-232 Port Replicator
Quick Installation Guide
Power Jack to USB Tyep A Male Cable, 120cm (4ft.)