SUNIX Tiny Universal DisplayPort Graphics Splitter is an innovative, external multi-display adapter that allows end users to enjoy multiple monitors from Ultrabook single digital DisplayPort source. You can make photos and videos bigger and louder by connecting your Notebook PC's to a TV, external display, or projector. For example, you can watch movies on a big screen by connecting SUNIX Tiny Universal Graphics Dongle to an HDTV. With flexible VGA, HDMI, and DisplayPort video output conversions, wide range of converters no longer needed.
SUNIX Tiny Universal DisplayPort Graphics Splitter adopts DisplayPort innovative technology that supports 3 video connections working simultaneously (Note 1). You can expand 3 displays at the same time for gaming, graphics design or spreadsheet analysis; or you can choose to dedicate each monitor to a separate application. With plug-n-play, simplifying configuration, driver free features, SUNIX Tiny Universal DisplayPort Graphics Splitter is a smart solution to video conversion on Microsoft Windows and Linux based computer.
Features
Tiny design integrates DisplayPort, HDMI, and VGA (RGB) connectivity.
Enables 3 monitors working simultaneously with video mirror or extension mode (Note 1).
Triple monitors output resolution up to 2560X1600@60Hz/each from single DP1.2 MST source.
6 combined monitors up to 5760x2160 by connecting two dongles from dual DP1.2 sources (Note 2).
Supports digital audio stream over DisplayPort or HDMI output.
Ideal for multi-display and TV-Wall application.
Compatible with DisplayPort v1.2a /1.1a, HDMI v1.4a, VESA DDM, and EDID v1.4 Std.
Supports DisplayPort link rates of 5.4Gbps (HBR2), 2.7Gbps (HBR) and 1.62Gbps (RBR).
Supports exceptional Secured Content Protection with HDCP v1.3 for digital content.
Drivers free under Microsoft Windows, MAC and Linux operations.
Hot Plug & Plug-n-play feature without configuration.
Certified by CE, FCC, VCCI, BSMI, C-Tick, and RoHS.
Applications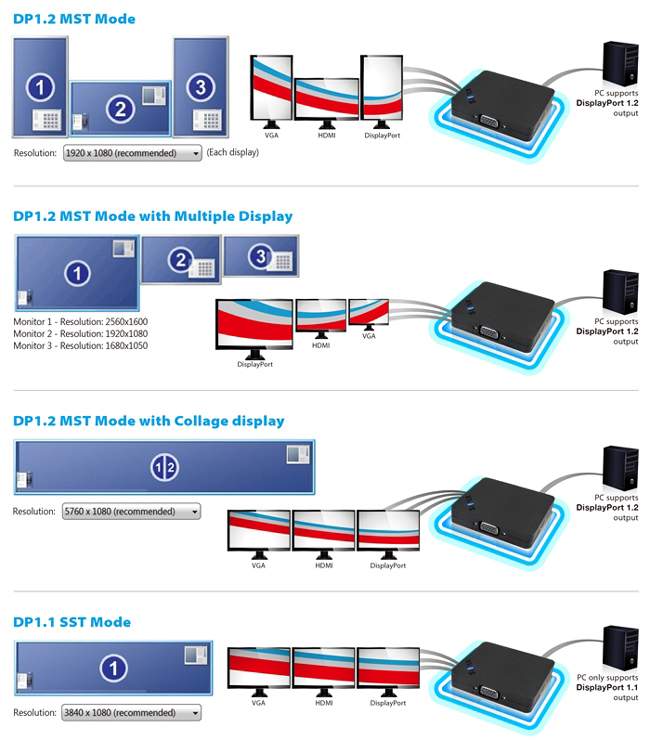 Specification
Model
DPU3000
Description
Tiny Universal DisplayPort Graphics Splitter
Interface
DisplayPort™ v1.2 / 1.1a
Video input Connectivity
Mini DisplayPort™ Female

Mini DisplayPort Input
Left: Micro-B +5VDC@1A Power Input.
Right: Right: Mini DisplayPort Input.
Video output Connectivity
1-port DisplayPort™ v1.2, DP++ Female

DP++ Output
1-port HDMI Ver1.4 Female

HDMI Output
1-port VGA (RGB) (Note 3)

VGA Output
Audio output Connectivity
Digital Audio output over DisplayPort or HDMI connection
LED
Blue LED indicates DisplayPort source link status
Resolution Support
(Triple monitors)
DisplayPort1.2 MST source: (multi video/audio steams)
max 2560x1600piex@60Hz each monitor.
DisplayPort 1.1 SST or DisplayPort1.2 SST source:
max 1920x1080piex@60Hz each monitor, 3840x1200piex@60Hz collage-display (ViewXpand mode.)
GPU dependent (Note 4).
Display Resolution
and Maximum Number of Monitors
DisplayPort 1.2 offers the higher pixel rate available, there is a limitation in how many pixels can be sent down the display pipe. The table below provides maximum monitor count vs. display resolution, based and DisplayPort 1.2 bandwidth limits. It is not required that all of the screens use the same resolution.
Display Resolution(standard 60 frames per second refresh rate)
Maximum Number of Monitors
based on DisplayPort 1.2 Bandwidth
1680 x 1050 (WSXGA)
5
1920 x 1080 (1080p) or 1920 x 1200
4
2560 x 1600 (WQXGA)
2
3840 x 2160 (UltraHD, 4K) or 4096 x 2160 (4K x 2K)
1
Power Consumption
1.45W
+3.3VDC DisplayPort Bus Power
Power Connector
1-port Micro-B USB port +5VDC in (Reserved)
Case Material
ABS
Weight
40g ± 2g (1.5oz)
Dimensions
70x54x14mm (0.23x0.18x0.05ft)
Regulatory Approvals
EUR: CE, EN55022 Class B, EN55024, EN61000-3-2, EN61000-3-3
US: FCC Part 15 Class B
TAIWAN: BSMI: CNS13438
AS/NZS: C-Tick: CISPR22
JAPAN: VCCI
O.S. support
Windows XP/2003/Vista/7/8/8.1, 2008/2012, (32/64-bit)
Linux 2.6.x or later
Environment
Operation temp. 0 °C ~ 40 °C (32-104°F)
Operation humidity: < 85% non-condensing
Storage temp. -10 °C ~ 85 °C (14~176°F)
Package
Tiny Universal Graphics Dongle x1
Mini DisplayPort Male to Mini DisplayPort Male cable 100mm (4.0 ft.) x 1 (Optional)
DisplayPort Male to Mini DisplayPort Male cable 100mm (4.0 ft.) x 1 (Optional)
Quick Installation Guide
Note:
1: Intel Haswell platform supports maximum 3 independent displays working simultaneously, including AIO (All-in-one) or Notebook's display panel itself.
2: 6 combined monitors support by AMD Eyefinity multi-display technology.
3: SUNIX Triple-Head DisplayPort Splitter supports DP++ protocol that actively convert the DisplayPort™ signal to the VGA, DVI or HDMI connectivity over SUNIX video dongle.
4: GPU dependent. EDID (Extended Display Identification Data) maximum resolution capabilities may differ based on GPU capability. Output pixel and format options are compatible with VESA standards.
5: Tiny Universal DisplayPort Graphics Splitter does not support MAC system without NV or AMD graphics card built-in.
Download