รับประกัน 3 ปี
Computer modules for digital matrix systems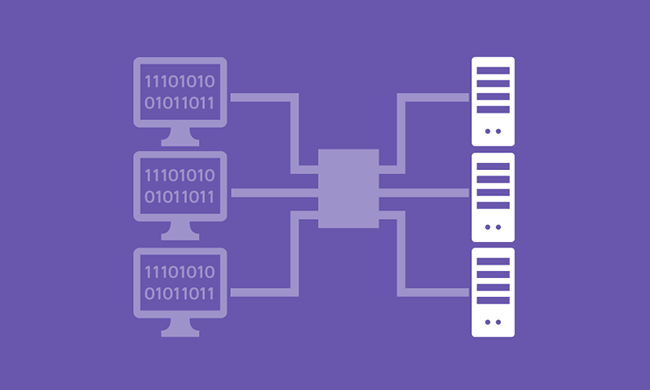 Computer modules connect the external computer interfaces keyboard, video, mouse and audio with the central module. The signals are combined, processed and transmitted via CAT x cable or optical fibres.
Any computer module has a unique ID that helps identifying the device within a digital matrix system.
We provide the following computer module variants:
Basic computer modules
The basic computer modules make it possible to configure your system to exactly fit your needs. They are divided by the transmitted video signal and are available in additional variants. These expansion stages and additional functions can be found below.
DP-HR-CPU
Integrate high resolutions into the system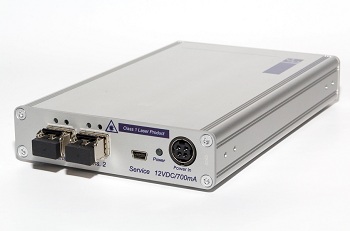 DP-HR components let you integrate graphics cards and monitors with DisplayPort™ connectors at high resolutions into digital matrix systems. A bandwidth up to 300 Mpixels/s allows resolutions up to 2560x1600/60Hz or 4096x2160/30Hz.
The transmission takes place via CAT cables or optical fibers (only for ControlCenter range) thus allowing transmission distances of up to 10,000 m.
The computer modules DP-HR CPU are available in different expansions and differ based on the number of video channels, the transmission medium, the transparent USB transfer and the possibility of controlling redundant matrix switch clusters.
DP-CPU
Standard module for DisplayPort sources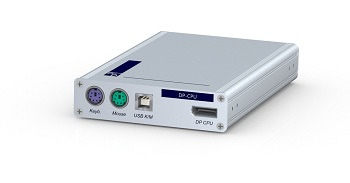 DP-CPU is a standard module for the integration of DisplayPort™ into the matrix.
The DP-CPU combines keyboard, video, mouse, and audio signals, converts DisplayPort™ into single-link DVI and uses CAT cables to link them to the KVM matrix system. Integrating the user module DVI-CON the signals are provided at the remote workstation.
DVI-CPU
Standard module for Single-Link DVI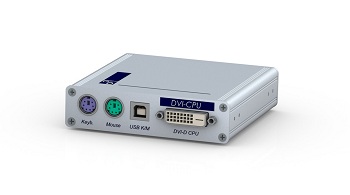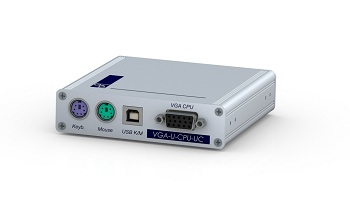 Standard variant transmitting the following signals:
Single-link DVI-D
PS/2 + USB keyboard/mouse
Audio (Line In / Line Out)
The communication with Wacom Intuos3 or 4® tablets is supported.
VGA-CPU
Standard module for VGA video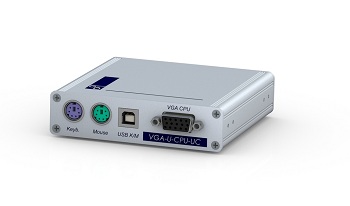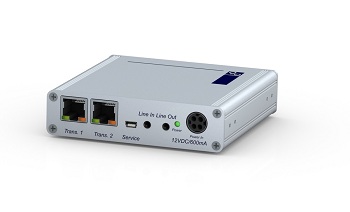 Module to connect a VGA computer to the matrix The VGA-CPU combines keyboard, video, mouse, and audio signals and uses CAT cables to link them to the central module. The device converts analog signals into digital ones.
The module transmits the following signals:
VGA
Keyboard/Mouse (USB & PS/2)
Audio
Resolution: VGA up to 1920 x 1440 @ 75 Hz
U2-R-CPU
Standard module for transparent USB 2.0
The U2-R-CPU transmits the following signals:
The transmission of the signals occurs transparently. The distance lenght between the U2-R CPU module and the KVM matrix switch can be up to 140 meters.
Additional computer module variants
The following additional variants add more signals and functions to the basic computer modules.
DualHead (DH)
Transmit two video signals via one cable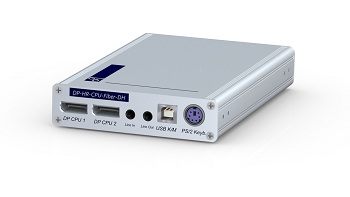 The DH variants (DualHead) allow transmitting two video signals via one transmission cable. Following resolutions are possible:
One channel usage:


up to 2560 x 1600 @ 60Hz (2K)
or 4096 x 2160 @ 30Hz (4K)
Two channel usage:


up to 2 x 1920 x 1200 @ 60Hz
if there is less resolution and transmission on the second video channel, the first channel can transmit a higher resolution (330 MPixel/s total bandwidth)
This module makes it possible to establish multi-monitor workstations in combination with the corresponding user modules.
The cabling comes with significant advantages: transmitting two video signals on one line saves 50% of the ports at the central switch – and therefore does not only result in less complex cabling but also in a significant commercial advantage, which can be in the form of a smaller matrix system.
UC
Connect computers to two different matrix systems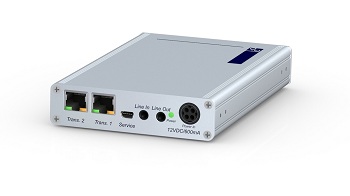 With the "UC" module you can connect one computer to two different matrix systems (clusters).The module owns two RJ45 sockets. Each is connected to another matrix system.
You can connect to the computer from each of the connected clusters.
Fiber
Increasing range via fibre optics
We use optical fibers to expand the transmission length to the central module. With this module you can use the benefits of this medium. In addition to the computer module, an I/O card fiber must be installed in the central module of the ControlCenter-Digital or you must have a fiber variant of the ControlCenter-Compact.
Note: The fiber modules can not be used with DVICenter central modules
The transmission length to the central module depends on the used module and is up to 10,000 m.
Fiber(M) bridges up to 400 m
Fiber(S) bridges up to 5,000m
Fiber(S+) bridges up to 10,000m
USB (U)
Integrated USB transmission without extra wiring
With the "U" variant it is possible to transmit transparent USB without any additional devices. There is no need for additional cables or devices.
This solution achieves a transmission rate up to 16 Mbit/s. For higher rates you need the U2-R-CPU.
DVI-I
Transmit digital or analogue signals with DVI interfaces
With the "I" variant we provide a CPU device with an DVI-I interface. It can transmit DVI or VGA signals with single link resolutions (up to 1920x1200 @ 60Hz).
MultiChannel (MC)
Connect computers with more video channels to the system
MC2 computer modules let you integrate computers supporting two-channel video into your system.
A multi-monitor workstation can be implemented by using a corresponding console module (e.g. DVI-CON-MC2 or -MC4). Each of the two video channels is provided with full bandwidth. Each video channel requires a separate transmission path. Thus, the video channels can also be switched independently.
FSC
Optimized rack mounting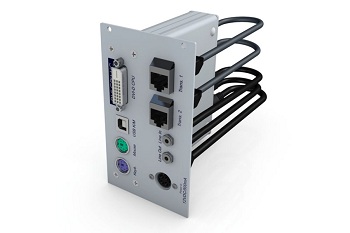 The FSC variant offers all the connectors of the device on the front. This solution was especially designed for rackmount usage.
This solution was designed for using it with our mounting solutions.
No Powerpack
Power supply according to your needs
You can order the computer modules without the included power supply.
Order the MultiPower if the computer modules have to be supplied with power from a central source.
Mix & Match with extenders
All products signed with this icon can be used together. Computer or user modules for matrix systems can be mixed with extender systems. Extender systems can also be used in the matrix . For example: a DP-CPU computer module can be directly connected to a DVI-Vision-CAT-CON to establish an extender system.
This provides full flexibility and hepls at future-oriented planning of growing systems.
Optimized mounting solutions for rack installation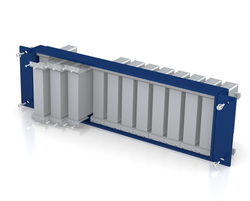 Our computer modules can be perfectly assembled with our optimized rackmount solutions. You can find them under the point mounting solutions.
A central power supply can be realised with our MultiPower devices.
List of Item Numbers