Spec

รับประกัน 3 ปี
The system consists of a computer module (transmitter) and a user module (receiver) and enables you to operate a computer on a local or remote console.
DVI-Vision uses CAT-x cables or fibre optics to transmit signals up to 10,000 m. The devices use DVI video and are available as variants displaying 1, 2, 3 or 4 video channels. It is also possible to transmit transparent USB 2.0, RS232 and audio signals.
With its network port, the web interface and monitoring functions, the DVI-Vision system offers important features for mission-critical applications.
Transmission
DVI-Vision systems are available as CAT or Fiber variants. These differ by the used transmission cable between the CPU and CON module.
Features
Screen-Freeze Function
If the console module loses the video signal due to a broken connection or a problem with the computer's graphics card, the Screen-Freeze function "freezes" the last displayed image of the monitor. This state is highlighted by a red semi-transparent frame. The function is automatically cancelled when the display receives an active video signal.
Monitoring
With the Monitoring function, you can auto-output device status messages to Syslog servers or SNMP. The web interface lets you monitor the device manually. The Monitoring function of the DVI-Vision queries the following values:
Proactive monitoring of device states
Event reporting function (Syslog or SNMP traps)
Status power supply unit (on/off)
Status temperature threshold device (in/over limit)
Status connection cables (ok/nok)
Status computer (on/off)
Status image signal graphics card computer (available/not available)
Status network
Fan monitoring
Status SFP modules (in -Fiber variants)
Status interfaces (CPU and CON modules)
Freeze status (all channels)
Type of display (local and remote)
Easier access with SNMP tool Zabbix
For customers who are not yet using extensive SNMP tools, G&D offer a simple way to use the functions included in the devices. Templates for the open source tool Zabbix are provided here. The program lets users monitor SNMP-capable devices in a network and, among other things, issues warning notifications about critical device states, which have been received via SNMP trap.
Detail
Video
Highly developed compression algorhythm of the latest generation for best video quality and latency-free transmission - The High-Dynamic-Image-Processing level 3
Single-Link DVI signals
Resolutions per channel up to 1920 × 1200 @ 60 Hz (more VESA and CEA standardized resolutions within the video bandwith and the horizontal / vertical frequency are possible, e.g. 1600 x 1200 @ 60 Hz)
Video bandwidth: 25 to 165 MPixel/s
Vertical frequency: 24 Hz to 120 Hz
24 bit colour mode
Supports digital and analog monitors at the console
Transparent forwarding of E-DDC information
Single- and multi-channel variants
Operation
At both modules console with all video channels
via Web-Interface or OSD
Competing or exclusive operation via local or remote workplace
Signals
Transmission of bidirectional audio and RS232
PS/2 and USB keyboard/mouse support
Integrated USB 2.0 transmission with Full Speed (ARU variant)
Transparent transmission of USB 2.0 with Hi-Speed 480 MBit/s (ARU2 variant)
Generic USB-HID interface for connecting any HID device, e.g. touchscreens or tablets
Transmission
Distances up to 140 meters at maximum resolution over CAT-x cable (x = 5e, 6, 7; depending on cable)
Distances up to 400 metres at maximum resolution with multimode fiber optics
Distances up to 5,000 (S) or 10,000 m (S+) metres at maximum resolution with singlemode fiber optics
Device
Supports PS/2 and USB keyboard/mouse; allows mixed operation
Permanent keyboard/mouse emulation
Redundant, external power supply (optional)
Ident LED helps finding the device in complex installations
Shipped as desktop variant (Twin devices and sets for rack- or tablemounting are seperately available)
System update
Variants
Video channels
Single-channel
Multi-channel 2
Multi-channel 3
Multi-channel 4
USB transmission
"U" variants: integrated USB 2.0 transmission without an additional transmission cable. This variant offers transfer speed up to 16 Mbit/s.
"U2" variants: USB 2.0 transmission with an additional cable. This solution reaches the HiSpeed transfer rate of 480 Mbit/s.
Transmission medium
DVI-Vision-CAT variants: transmission via CAT-x cables
DVI-Vision-Fiber variants: transmission via multimode or singlemode fiber optics
Expansion
Communication with KVM-NetworkCenter
DVI-Vision uses the network to communicate with the appliance KVM-NetworkCenter. When deploying more than one DVI-Vision, you can query and configure the devices by using the KVM-NetworkCenter.
Embedding extenders in digital matrix systems
To be prepared for growing installations, the integrated matrix support turns the DVI-Vision into a future-proof investment.
This way, it is possible to include extenders at a later point into one of the digital G&D matrix systems within an existing installation. Thus, users benefit from more flexibility through distributed access - and any existing components can still be used as before.


List of Item Numbers
CAT variants
Transmission via CAT-x cable
Here you find all item numbers of the DVI-Vision-CAT variants:
Single-Channel variants (CAT)

Multi-Channel variants (CAT)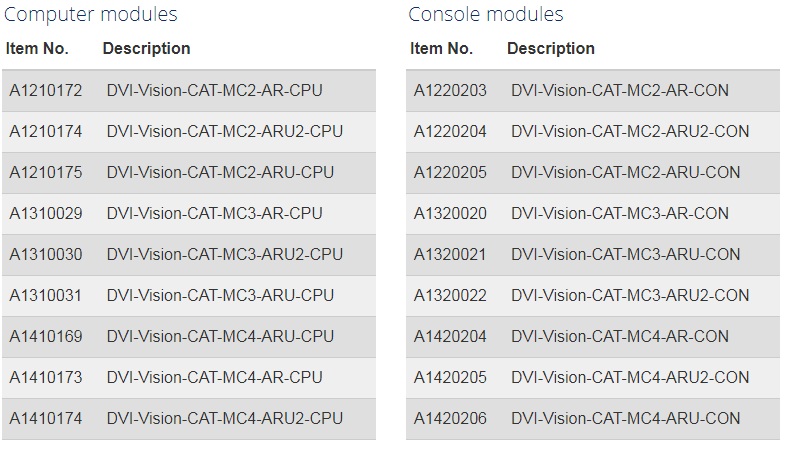 Fiber variants
Transmission via fiber optics
Here you find all item numbers of the DVI-Vision-Fiber variants:
Single-Channel variants (Fiber)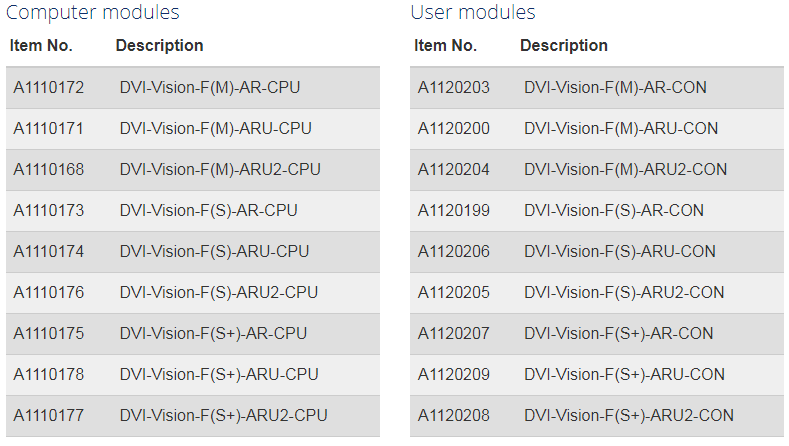 Multi-Channel variants (Fiber)