Spec

รับประกัน 3 ปี
CATVision transmits uncompressed signals over CAT x cables (x = 5, 6, 7) up to 300 m. The devices are available as variants displaying 1, 2, 3 or 4 video channels.
The system consists of a computer module (transmitter) and a user module (receiver) and enables you to operate a computer remotely. You can connect a console to each module.
Features
Video
Automatic video optimisation
Individual Video Tuning (IVT+) via OSD
Delay compensation (skew) up to 50 ns for all colours over OSD (optional)
Automatic video optimisation
Communication / Safety
Redundant power supply
Access protection and user management can be switched off
Detail
Video
Resolutions up to 1920 × 1440 @ 75 Hz or 2k × 2k @ 60Hz
Video bandwidth up to 250 MHz
Single and multi channel variants
Operation
Console with all video channels at both modules
Signals
PS/2 and USB keyboard/mouse support
Supports special keyboards
Transmission
Up to 300 meters (depending on resolution)
Up to 100 meters for USB 2.0 (optional)
Over CAT-x cable (x = 5e, 6, 7)
Bidirectional audio and RS232 signals (optional)
Transparent transmission of 2.0 signals (optional)
Device
Internal power pack and redundant power supply (redundant, external power pack; optional)
Full keyboard/mouse emulation
Supports USB and PS/2 keyboard/mouse (including mixed mode)
Available as desktop and 19" variant
System upgrade
Flash upgrade via service socket
Variant
Desige
vailable as desktop (DT) or rack mount (RM) variant
Twin variant combines two identical CATVision modules behind one panel
Video channels
Single-channel, multi-channel 2, 3 and 4
Expansion
CV Power
CV-Power enables you to turn a computer remotely on or off (reset and ATX power switching). A slot card is implemented in the computer and connected to the computer module. Our customers provide the operating hardware at the remote side (button or similar). The hardware is connected to the user module.
The function is available for all CATVision variants. For further details, please contact our sales team.
Delay Compensation
The delay compensation is only applied in the computer module. It automatically or manually adjusts the runtime differences of cables up to 50 ns. Thanks to this adjustment, the colours "reach" the display at the same time.
We recommend applying the delay compensation for cable lengths over 100 m. When using the K-C5-OIL cable, the compensation is obligatory. For cables other than G&D ones it may be useful to apply the delay compensation for shorter transmission lengths.
List of Item Numbers
Single-Channel variants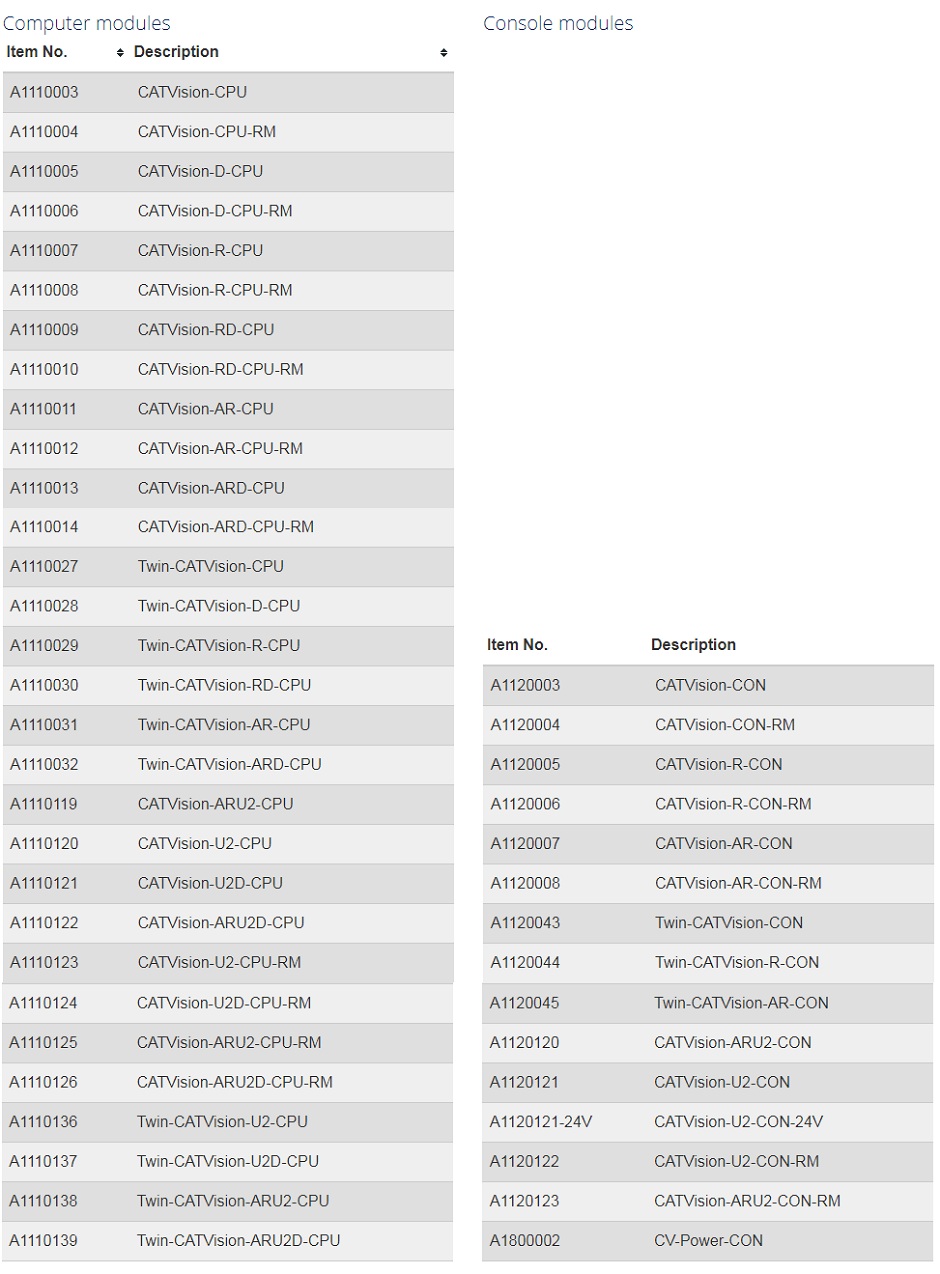 Multi-Channel variants